Cultivating Leadership: The Rossi Family's History of Volunteerism at ADS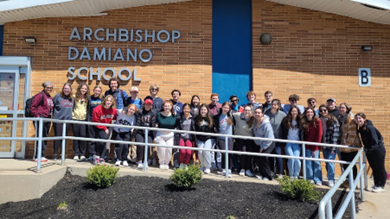 ---
On Sunday, April 2nd, Archbishop Damiano School welcomed 32 Pledging Members of Phi Sigma Pi Fraternity at St. Joseph's University to our school to help ADS prepare for spring by decorating bulletin boards, crafting colorful floral decorations to adorn our hallways, assembling new wheelchair accessible flower boxes, and tending to our "Not-So-Secret Garden". Our students and staff were delighted to return to the transformation of our garden area and a beautiful springtime display that truly brightened our facility.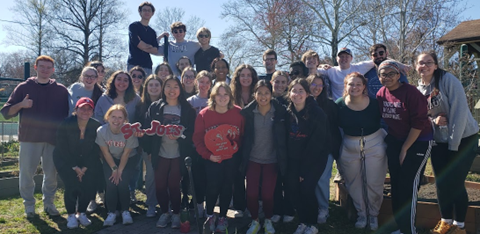 SJU sophomore, Dominic Rossi, was the leader and organizer of this initiative. Dominic, who was recently nominated as the service chair for Phi Sigma Pi, chose to give back to Archbishop Damiano School for his first official community service project with the honors fraternity. In recent years, Dominic has also volunteered his time to provide janitorial support to our maintenance staff, while also sharing his love for music by performing with his band and playing guitar for our students.
It comes as no surprise that Dominic Rossi would continue to lend his talents and resources to ADS, as his mother, ADS Assistant Principal, Joelle Rossi, has served as an incredible educational leader within our school community for many years. Joelle and her family have an extensive history of dedicating charitable work to ADS that includes volunteering during family fun events, raising funds for students to purchase books at the Scholastic Book Fair, performing DJ duties at Prom, and donating to our horticulture garden in memory of her father. Joelle's daughter, Kristina Rossi, has also organized walks for individuals with disabilities for several years, and will work alongside Joelle as an ESY teacher at ADS this summer!
Archbishop Damiano School is honored to have such a strong leader whose family's compassion and commitment to our ADS community mirrors her own. The Rossi Family's consistent involvement and support has significantly benefited our program and we are eternally grateful.