Ruby's Peaches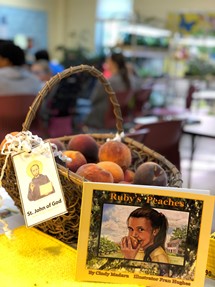 ---
Through the generosity of Investors Bank, Archbishop Damiano School launched the Garden to Garnishes project today. Garden to Garnishes is a joint effort between Archbishop Damiano School, local artists and the community to bring arts and environmental awareness to our students through a series of garden-themed activities. A special thanks goes out to our Director of Development, Nancy Mansfield, for working with Investors Bank to secure project funding, and to our Curriculum Coordinator, Linda McHugh, for bringing the project to life.

Kicking off Garden to Garnishes, local author, Cindy Madara, came to the ADS Science Room to read her picture book, Ruby's Peaches, to our Early Childhood students. In addition to listening the author's reading, each classroom received an autographed copy of the book, peach coloring pages, Jersey Fresh peaches, and a photo opportunity with the author! Following the reading, two peach trees were planted in the school's Not So Secret Garden. In the future, as students enjoy Ruby's Peaches, they will also be able to follow the life cycle of peaches in our garden.
Copies of Ruby's Peaches are available in the library for students to borrow.
For more information regarding the author, Cindy Madara, and illustrator, Fran Hughes go to http://amazon.com/Rubys-Peaches-Cindy Madara, http://franhughesart.com, http://store.bookbaby.com/book/Rubys-Peaches2 or look for Rubys Peaches on Facebook.