COVID-19 IMPORTANT UPDATE!
Please Complete ADS Attendance Form Daily!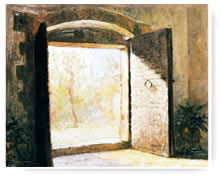 Archbishop Damiano School has a long and proud history. The school can trace its roots back to the mid-1500s in Granada, Spain. It was there that John Cuidad, later known as St. John of God, began his life's work of serving the poor, sick and disabled from the courtyard of the Venegas family house. From this humble beginning the work and mission of St. John of God has spread to over 51 countries throughout the world.

In 1965, Archbishop Damiano, the Bishop of Camden, invited five St. John of God Brothers from Ireland to found a school for children with Down Syndrome. At that time in the United States, a child with a disability did not have the right to an education. The idea of a free and appropriate public education for all children did not become law until the passage of the Education of All Handicapped Children Act in 1975. Ahead of its time, Archbishop Damiano School became a special place for children and their families to learn, grow, and prosper. Our programs continue to grow and evolve but the heart of our school remains focused on those we serve
Latest News...
---